The Kirkcolm community council consists of elected members representing all of the people in the village. The council seeks to represent the views and concerns of the residents of the village and seeks to identify local needs and priorities.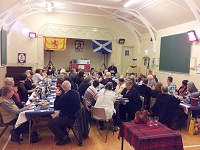 The community council meets regularly usually on the second Wednesday every two months. The meetings are held in the Village Hall in Kirkcolm and members of the public are welcome to attend.
A member of the local Police force also attends each meeting and reports on local policing issues. A member of the Dumfries and Galloway Council often attends and advises on issues relating to that Council.
Those who have opinions about particular matters under consideration are invited to contribute to the debate although the right to vote is restricted to elected members. Please contact a member of the community council for more information using the links shown to the left.
The next meeting will be held on Wednesday 12th February 2014, at 7:30pm in Kirkcolm Village Hall.
BREAKING NEWS Direct from Carol Ann Martin.
 
Carol Ann will be opening the shop from the hall as from Wednesday 5th February.
09.00 to 14.00

Papers, milk and bread available and anything else by request.

The phoenix is rising, spread the word.